News
Job Description_Instructor for Bachelor-Level Course on Sustainable Urban Engineering
---
The Forum of Education Abroad and EUASA jointly offer a Critical Dialogue entitled "Education Abroad in Europe: All Voices at the Table" Protokoll und Critical Dialogue Follow-Up

---
More EUASA events
We would appreciate it if you could pass this along to your association members.
_____________________________________________________________________
EUASA is hosting a series of 1 hour sessions for European On-Site Staff to network, discuss topics of interest, and plan the way forward for study abroad in Europe. There will be no presentation or agenda, just a broad theme and a time for voices to be heard and new colleagues to be met, virtually of course. Sessions will be limited to 30 people each to promote full discussion. Registration required. A link to join will be sent once we have accepted your registration.

Thursday 15th October 5-6 pm CET
Developing a Community of On Site Staff in Europe
Hosts:
Stephen Robinson - Champlain College Dublin
Christine Kelly-Vereda - CASA Granada
Thursday 22nd October 5-6 pm CET
Strengthening the Voice of On Site Staff in Europe
Hosts:
Pia Schneider - Iowa State University in Rome
Julia Carnine - Dickinson College in Toulouse
Wednesday 4th November 4-5pm CET
Tales from the Lockdown
Hosts:
Stephen Robinson - Champlain College Dublin
Michael Wright - Duquesne University in Rome
Friday 20th November - 2-3 pm CET
So, How is Spring Looking?
Hosts:
Loren Ringer - Parsons Paris
Mónica Pérez-Bedmar - APUNE
Please join our LinkedIn page if you haven't done so already!
All the best from the EUASA team!
DR. STEPHEN ROBINSON
Director and Professor
Champlain College | Dublin Campus
43 Leeson Street Lower
Dublin 2 | Republic of Ireland
Office: +353-1-6440050 | Mobile: +353-86-818 8826
European Resident Director survey report
The European Association of Study Abroad (EUASA) is thrilled to announce the release of its report entitled Resident Directors in Europe: Our Community, Our Contributions, and Our Challenges.
The report can be found on the EUASA website at http://www.eu-asa.org/resident-directors-in-europe, and is available as the entire report or as individual chapters. A brief section on key results can also be found on the website.
This report is an extensive survey of over 200 European Resident Directors conducted in the late summer of 2019, and includes information demographics, education levels, academic rank, job titles, salaries and benefits, size of programs, numbers of staff and faculty supervised, and hours worked. Where appropriate the responses are broken down by country.
The report also examines in detail training and preparation to deal with various components of the job, as well as indications of job satisfaction. Information also includes a detailed examination of the wide-ranging job responsibilities and expected expertise that Resident Directors hold. Resident Directors also reported on the biggest challenges of the role, as well as the biggest benefits to the job.
The important findings of this study should be of interest to both on-site study abroad professionals as well as those at the home and sending institutions in the US and Canada. It is hoped that the wider international higher education community will take notice of some specific findings, such as the particular challenges that RDs face and issues of communication, that are widely reported in the survey results.
The survey team is also thrilled to be presenting the key results at Forum on Education Abroad's European Conference in October.
Any questions regarding the survey results can be sent to team leader Stephen Robinson at srobinson@champlain.edu
All the best from Dublin, Stephen

---
EUASA News: Free Online Event Sept 24th 3-5pm CET
Dear colleagues and friends,
allow to me inform you that EUASA will host a online event on Sept 24th.
It is the first part of two events hosted by EUASA, but this is for free. 
The second event will take plas as a Critical Dialogue in collaboration with the Forum on Nov 10th, Cost 50$.
We have invited  a couple of special guests who will help facilitate the discussion and address many of the professional (and even personal) consequences of the crisis.
Here below is the announcement which we would like You to send to Your members of your national associations in order to promote the event on Sept 24th. You'll find below included the link in order to sign up and attached the logo of  EUASA:
The European Association of Study Abroad (EUASA) is pleased to present a free online event for on site staff across Europe.
Study Abroad Community Connects: Personal Impact
FREE ONLINE EVENT offered by EUASA
Sept 24th 3-5pm CET/2-4pm UK-Irl/9-11am EST

The sector faces unprecedented challenges and the need for collective reflection on what has happened, where we are presently, and what our future might look like. Come share your stories and experiences in a supportive, collegial and practical discussion. We encourage on-site staff, faculty and program directors from across Europe and the US to join us for an interactive, "Town Hall" style session.
Registration required at least 48 hours in advance of the session. Please note that while we encourage US-based international educators to join us, Europe-based on site staff will be prioritized for registration as our participant numbers are capped.

Register Here

Organizers and Panelists:
Phil Georgiou - MondoEquilibrio - Italy
Melissa Rancourt - Parsons Paris
Loren Ringer - Parsons Paris
Stephen Robinson - Champlain College Dublin
Pia Schneider - Iowa State University Rome
EUASA has created a LinkedIn profile and we'd appreciate it if you check it out and to follow our page: https://www.linkedin.com/company/eu-asa
Very best wishes,
Pia
Chair EUASA 
http://www.eu-asa.org/news-events/
---
Ergebnisse einer DAAD-Befragung von International Offices und Akademischen Auslandsämtern
Link für alle Länder (https://www.daad.de/de/infos-services-fuer-hochsch...)
Corona und die Folgen für die internationale Studierendenmobilität in Deutschland
(https://static.daad.de/media/daad_de/pdfs_nicht_ba...
---
Aktuelle und wichtige Informationen zu COVID 19
COVID 19 Updates
Bureau of Educational and Cultural Affairs
https://eca.state.gov/covid-19-updates
Travel.State.Gov
U.S. DEPARTMENT of STATE — BUREAU of CONSULAR AFFAIRS
https://travel.state.gov/content/travel/en/interna...
---
Health and safety information
In light of the latest developments regarding the novel Coronavirus (COVID-19), AASAP is closely monitoring statements from the European Centre for Disease Prevention and Control and from the German Government.
The links below will direct you to the most up-to-date and reliable resources, and we will continue to add to this list as additional resources become available.
Latest information from the Robert Koch Institute, one of the most important bodies for the safeguarding of public health in Germany: https://www.rki.de/EN/Home/homepage_node.html
FAQs answered by the German Federal Government: https://www.bundesregierung.de/breg-en/news
European Centre for Disease Prevention and Control at the European Union: https://www.ecdc.europa.eu/en/geographical-distrib...
Coronavirus information from the World Health Organization (WHO): https://www.who.int/emergencies/diseases/novel-cor...
Information from the US Department of Health-commissioned Centers for Disease Control and Prevention (CDC): https://www.cdc.gov/coronavirus/2019-ncov/about/in...
---
Resident Director for the American Junior Year (AJY)https://www.higheredjobs.com/search/details.cfm?Jo...https://www.higheredjobs.com/search/details.cfm?Jo...

Die 29. AASAP-Tagung wird am 15. und 16. November 2019 in den Räumen des Amerikazentrums in Hamburg (mit Blick auf die Elbphilharmonie) stattfinden.
---
Liebe Kolleginnen und Kollegen,
mit Betroffenheit haben wir die traurige Nachricht vernommen, dass Dr. Rainer Zäck am 2. April 2019 im Kreise seiner Familie verstorben ist.
Dr. Rainer Zäck war bis zu seinem Tode Geschäftsführer der Akademie für Internationale Bildung (AIB), die er 1993 mit der Vision gründete, US-Studierenden ein lebensveränderndes Auslandsstudium in Bonn zu ermöglichen.
Wir gedenken Dr. Rainer Zäck und drücken seiner Familie und seinen Angehörigen unser tief empfundenes Beileid aus.
Vorstand der AASAP e.V.
Yasmin Fischdick, Hanne Heckmann, Jochen Wohlfeil
---
AASAP Mental Wellbeing
booklets und audio und video guides http://wellbeing-glasgow.org.uk/
---
Yasmin Fischdick und Kurt Gamerschlag bei der Sitzung der Mitglieder der European Association for Study Abroad (EUASA) am Rande der FORUM-Konferenz in Prag am 17.10.2018.
Als Gäste zugegen: Heidi Manley, Direktorin der Study Abroad-Abteilung des Bureau of Educational & Cultural Affairs (ECA) im State Department und Ignacio Messana, Executive Board Member der spanischen Study Abroad Association APUNE, die ihren Beitritt zu EUASA für 2019 angekündigt hat, ihrem 50-jährigen Jubiläum.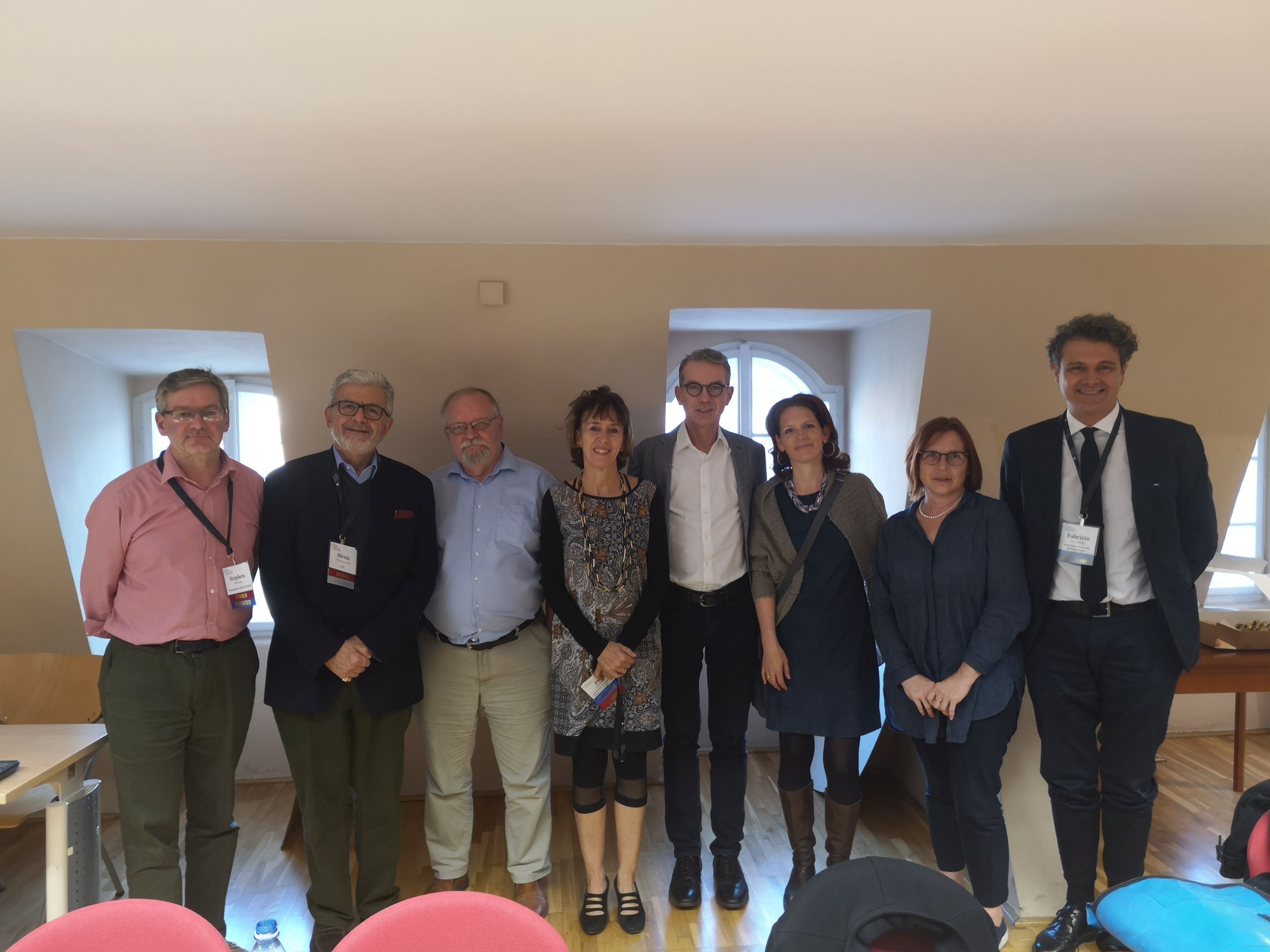 (links nach rechts) Stephen Robinson (Irland), Alexis Phylactopoulos (Griechenland), KG, Pia Schneider (Italien), Loren Ringer (Frankreich), YF, Jana Cemusova (Tschech. Rep.), Fabrizio Resante (Italien). Auf dem Sitzungsbild noch zusätzlich Ignacio Messana (Spanien) und Heidi Manley (USA).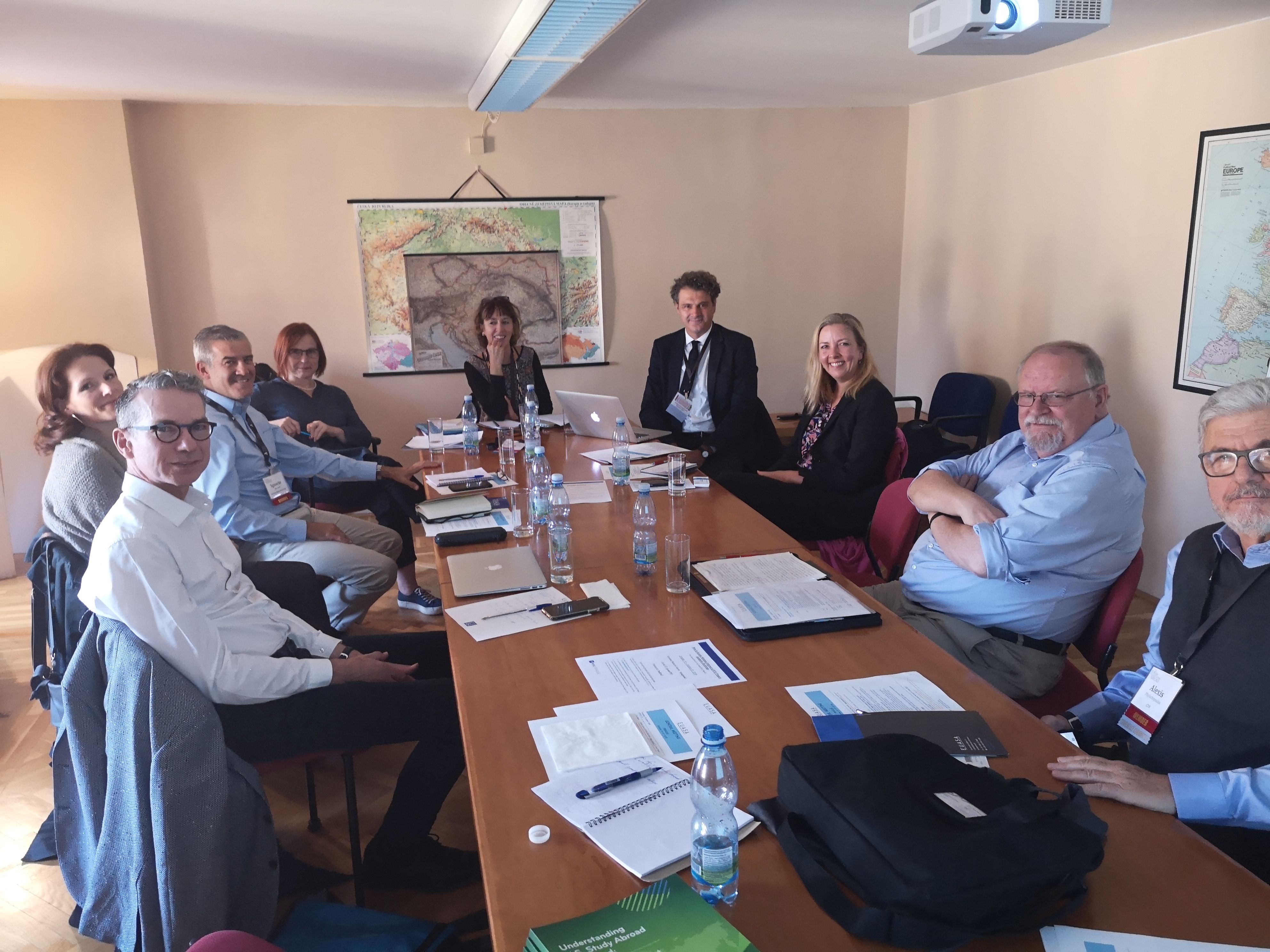 ---