News
*** SAVE THE DATE ***


33. AASAP-Tagung am 3./4. Mai 2024 in Lutherstadt Wittenberg
Die Assoziation Amerikanischer Study Abroad Programme in Deutschland e. V . (AASAP) lä dt
die Direktoren*Innen und Vertreter*Innen nordamerikanischer Study Abroad Programme in
Deutschland, sowie die Kolleg*Innen deutscher Hochschulen, deren Arbeitsschwerpunkt auf
Programmen fü r Studierende aus den USA und Kanada liegt, herzlich zur 33. AASAP-Tagung
nach Lutherstadt Wittenberg ein. Gastgeber der Tagung ist das Institut für deutsche Sprache
und Kultur e. V. an der Martin-Luther Universität Halle-Wittenberg (IDSK).
Ziel der jährlichen AASAP Tagung ist der kollegiale Wissens- und Erfahrungsaustausch,
informiert und inspiriert durch Beiträge von eingeladenen Expert*Innen und unsere eigene
Arbeit. Die Tagung bietet außerdem eine hervorragende Gelegenheit zur Netzwerkbildung und
zum Kennenlernen und Wiedersehen von Kolleg*Innen aus der Welt der nordamerikanischen
Study Abroad Programme in Deutschland.
Im Anschluss an die Tagung findet die jährliche Mitgliederversammlung der AASAP e.V. statt.
Alle Tagungsteilnehmer*Innen sind herzlich eingeladen, den Verein durch eine persönliche
oder institutionelle Mitgliedschaft zu stärken.
Ungefährer Ablaufplan:
Freitag, 3.05.2024
ca. 13:00 – 14:00 Uhr:
Registrierung und Empfang
ca. 14:00 – 18:00 Uhr: Tagung
abends: gemeinsames Abendessen


Samstag, 4.05.2024
ca. 09:00 – 12:30 Uhr: Tagung
gemeinsames Mittagessen
ca. 14:00 – 15:30 Uhr: AASAP e.V.
Mitgliederversammlung

Das Tagungsprogramm, inklusive Anmeldemodalitäten, wird im Frühjahr 2024 verschickt.

Mit herzlichen Grüßen vom AASAP-Vorstand:
Yasmin Fischdick, Martin Kley, Anja Seitz
http://www.aasap.de/de/ueber-uns
---
Academic Programs International (API) is a leader in international and experiential education. Our mission is to design and deliver international experiences that inspire learning and enrich students, partners, and communities. We believe in the value of experiential education as a means of promoting intellectual curiosity, cultural sensitivity, and holistic personal development. In doing so, we are also dedicated to providing high-quality, accessible, and affordable international experiences to students from across the U.S.
The API Experience Coordinator (EC) is responsible for the experiential learning program in Munich. The EC is responsible for undertaking all tasks necessary for the smooth and successful operation of the program and serving as API's primary liaison for university partners (faculty), participants, and the API office in Austin, Texas, USA. They report to the Regional Director for Germany.
We are recruiting for a short-term position to run a Customized Program for 5 days during the summer. Training will commence in May 2023 and the program will run from 19th - 23rd May 2023.
(Mr.) Claudio Schoeneberger [ He | Him | His ]
Resident Director Berlin
Chodowieckistr. 19/1
10405 Berlin
Mobile: +49 15770294322
https://apiabroad.com
---
Hello EUASA member associations,




While we have over 160 registrations for our EUASA virtual conference next month, we're always looking for more participation! It would be greatly appreciated if you could recirculate the message below to your members. Anecdotal evidence suggests that our original messages went out at a time during which many of us were snowed under with student arrivals and orientation programs. A reminder now that (hopefully) we're all coming up for a bit of air would be great! Please forward the message noted below. Thanks, The EUASA Conference Team
____________________________________________________________________________________________________
Please join EUASA, the European Association of Study Abroad, for a virtual conference intended for study abroad professionals working in Europe (although anyone is welcome to join us!). Four sessions will be presented over the afternoons of Thursday February 10 and Friday February 11, 2022. Social and networking opportunities will follow the presentations on each day.

Sessions include:
• Climate Action and Sustainability in European Education Abroad
• Diversity, Equity and Inclusion in European Study Abroad
• Evolving Hybridity in Teaching and Learning in Study Abroad
• Drawing the Battle Lines: The Future of Study Abroad in Europe


More details and free registration information can be found on our website here. We look forward to seeing you there! Please distribute this message widely to those who may be interested.



---

Nachruf der AASAP e.V. auf Jochen Wohlfeil, stellv. Vorsitzender
Mit dem unerwarteten, plötzlichen Tod von Jochen Wohlfeil im Alter von nur 65 Jahren verlor die Gemeinde der im internationalen Bereich der Hochschulen Tätigen einen sehr erfahrenen, hoch geschätzten und loyalen Kollegen. Wir werden ihn sehr vermissen, denn er war ein proaktives Mitglied der AASAP, hatte zu allen einen guten Kontakt und konnte mit seiner verbindlichen Art sehr erfolgreich zwischen unterschiedlich gelagerten Interessen vermitteln. Jochen, geborener Rheinländer, zog es zum Studium zunächst an die Universität Hamburg, dann an die Freie Universität Berlin zum John F. Kennedy Institut für Nordamerikastudien. 1982 wechselte er für ein Austauschjahr an die Indiana University, wo er sich einen MA-Abschluss in Anglo- and German Studies erarbeitete. Zurück an der FU Berlin schloss er sein Studium mit einem weiteren MA in American Studies ab. Seine eigene Erfahrung als Student und sein Austauschjahr in den USA hatten einen so nachhaltigen Einfluss auf ihn, dass er sich nach seinem erfolgreichen Studienabschluss mit großem Engagement und ebenso großem Erfolg der Betreuung von amerikanischen Studierenden widmete. Schon 1984 begann er als Dozent in Deutsch als Fremdsprache für das Study Abroad-Programm der Stanford University in Berlin zu arbeiten. Vier Jahr
e später übernahm er dann als seine "Berufung" die Aufgabe als "Resident Director" des "Duke-in-Berlin"- Programms, dessen "Gesicht und Seele" er 33 Jahre lang gewesen ist.
Jochen verstand es wie kaum ein anderer, mit Autorität, Engagement, Herzblut, Humor und nicht zuletzt hoher pädagogischer Kompetenz seine Studierenden zu betreuen, anzuleiten und ihr Auslandsjahr zu einem unvergesslichen Erlebnis zu machen, das ihr weiteres Leben beeinflussen sollte. 2009 verlieh ihm die Stanford University dafür den wohlverdienten "Award for Excellence in Teaching", und die Duke University ernannte ihn zum "Adjunct Associate Professor of the Practice in German".
Mit Geschick und Freundlichkeit übernahm Jochen als nicht die geringste seiner Aufgaben auch die zentrale Liaison zu den Berliner Universitäten. Es gelang ihm immer wieder, die Universitätsverwaltungen für sich und sein Programm einzunehmen und deren Unterstützung zu erwirken, wo dies nötig war. Hier sollte besonders die räumliche Unterbringung des Programms erwähnt werden. Als begabter Brückenbauer erwies er sich auch beim Aufbau eines umfangreichen Netzwerks von Gasteltern, deren zum Teil jahrzehntelange Treue zum Duke-Programm hierfür Zeugnis genug ist.
Über die Jahre erwarb sich Jochen ein Wissen über Berlin, das nur wenigen Berlinern eigen ist. Mit großer Neugier und beträchtlichem Zeiteinsatz verfolgte er ab Ende der 80er Jahre die gesellschaftlichen und politischen Umbrüche in derStadt und ihre sichtbaren Zeichen in Architektur, Infrastruktur, Medien, Mode und Sprache. Auf der Grundlage dieses breiten Wissens und Einfühlens schaffte es Jochen, Studierendengeneration, um Studierendengeneration für die Stadt Berlin zu begeistern und mit Kolleg*innen "Geheimtipps" für eine Vertiefung der Berlinkenntnis zu teilen. Er war ein Almanach Berlins, der besonders gerne von den Studierenden zu Rate gezogen wurde.
Zu einem Markenzeichen des Duke-Programms wurden die uramerikanischen Thanksgiving-Feiern, zu dem nicht nur die der Heimat fernen Studierenden geladen wurden, sondern auch das gesamte Netzwerk der Unterstützer des Duke Programms (Homestay Eltern, Ansprechpartner*innen der Verwaltungen und natürlich Dozenten*innen). Es waren Jochens Persönlichkeit, sein Witz und sein Engagement, die diese Feierlichkeiten jedes Mal zu denkwürdigen Veranstaltungen werden ließen.
Schon seit Anfang der 90er Jahre nahm Jochen als regelmäßiger Gast und nicht selten auch als Referent bei den "Resident Directors"-Tagungen des CIEE teil. Als 2013 die Idee der AASAP geboren wurde, war er ein Vertreter der ersten Stunde, der solch ein Forum begrüßte, förderte und mit gründen half. Fünf Jahre später, im Jahre 2018, kam Jochen sehr schnell als wichtiger Kandidat ins Spiel, als es darum ging, die zweite Generation der Vereinsleitung zu finden. Es bedurfte nur eines kleinen Appells an seine "Gesamtverantwortung" für das Tätigkeitsfeld der deutsch-amerikanischen Study Abroad Programme, bis er der Aufnahme in den Vorstand zustimmte. Mit seinem unermüdlichen Engagement half er der AASAP, die schwierige Zeit der Corona-Pandemie durchzustehen und den Mitgliedern in vielen Gesprächen zu helfen, die amerikanischen Partneruniversitäten zu überzeugen, die Programme fortbestehen zu lassen.
Jochens umsichtige, menschenfreundliche Art wird immer Vorbild sein, wie gegenseitige Hilfe gestaltet werden sollte. Er wird uns bei AASAP sehr fehlen. Wir werden sein Andenken in Ehren halten und wünschen seiner Familie alles nur erdenklich Gute, über diesen Schock des unerwarteten Verlustes hinwegzukommen.
LIEBER JOCHEN, WIR VERMISSEN DICH!
---
Job Description_Instructor for Bachelor-Level Course on Sustainable Urban Engineering
---
The Forum of Education Abroad and EUASA jointly offer a Critical Dialogue entitled "Education Abroad in Europe: All Voices at the Table" Protokoll und Critical Dialogue Follow-Up

---
More EUASA events
We would appreciate it if you could pass this along to your association members.
_____________________________________________________________________
EUASA is hosting a series of 1 hour sessions for European On-Site Staff to network, discuss topics of interest, and plan the way forward for study abroad in Europe. There will be no presentation or agenda, just a broad theme and a time for voices to be heard and new colleagues to be met, virtually of course. Sessions will be limited to 30 people each to promote full discussion. Registration required. A link to join will be sent once we have accepted your registration.

Thursday 15th October 5-6 pm CET
Developing a Community of On Site Staff in Europe
Hosts:
Stephen Robinson - Champlain College Dublin
Christine Kelly-Vereda - CASA Granada
Thursday 22nd October 5-6 pm CET
Strengthening the Voice of On Site Staff in Europe
Hosts:
Pia Schneider - Iowa State University in Rome
Julia Carnine - Dickinson College in Toulouse
Wednesday 4th November 4-5pm CET
Tales from the Lockdown
Hosts:
Stephen Robinson - Champlain College Dublin
Michael Wright - Duquesne University in Rome
Friday 20th November - 2-3 pm CET
So, How is Spring Looking?
Hosts:
Loren Ringer - Parsons Paris
Mónica Pérez-Bedmar - APUNE
Please join our LinkedIn page if you haven't done so already!
All the best from the EUASA team!
DR. STEPHEN ROBINSON
Director and Professor
Champlain College | Dublin Campus
43 Leeson Street Lower
Dublin 2 | Republic of Ireland
Office: +353-1-6440050 | Mobile: +353-86-818 8826
---
European Resident Director survey report
The European Association of Study Abroad (EUASA) is thrilled to announce the release of its report entitled Resident Directors in Europe: Our Community, Our Contributions, and Our Challenges.
The report can be found on the EUASA website at http://www.eu-asa.org/resident-directors-in-europe, and is available as the entire report or as individual chapters. A brief section on key results can also be found on the website.
This report is an extensive survey of over 200 European Resident Directors conducted in the late summer of 2019, and includes information demographics, education levels, academic rank, job titles, salaries and benefits, size of programs, numbers of staff and faculty supervised, and hours worked. Where appropriate the responses are broken down by country.
The report also examines in detail training and preparation to deal with various components of the job, as well as indications of job satisfaction. Information also includes a detailed examination of the wide-ranging job responsibilities and expected expertise that Resident Directors hold. Resident Directors also reported on the biggest challenges of the role, as well as the biggest benefits to the job.
The important findings of this study should be of interest to both on-site study abroad professionals as well as those at the home and sending institutions in the US and Canada. It is hoped that the wider international higher education community will take notice of some specific findings, such as the particular challenges that RDs face and issues of communication, that are widely reported in the survey results.
The survey team is also thrilled to be presenting the key results at Forum on Education Abroad's European Conference in October.
Any questions regarding the survey results can be sent to team leader Stephen Robinson at srobinson@champlain.edu
All the best from Dublin, Stephen

---
EUASA News: Free Online Event Sept 24th 3-5pm CET
Dear colleagues and friends,
allow to me inform you that EUASA will host a online event on Sept 24th.
It is the first part of two events hosted by EUASA, but this is for free. 
The second event will take plas as a Critical Dialogue in collaboration with the Forum on Nov 10th, Cost 50$.
We have invited  a couple of special guests who will help facilitate the discussion and address many of the professional (and even personal) consequences of the crisis.
Here below is the announcement which we would like You to send to Your members of your national associations in order to promote the event on Sept 24th. You'll find below included the link in order to sign up and attached the logo of  EUASA:
The European Association of Study Abroad (EUASA) is pleased to present a free online event for on site staff across Europe.
Study Abroad Community Connects: Personal Impact
FREE ONLINE EVENT offered by EUASA
Sept 24th 3-5pm CET/2-4pm UK-Irl/9-11am EST

The sector faces unprecedented challenges and the need for collective reflection on what has happened, where we are presently, and what our future might look like. Come share your stories and experiences in a supportive, collegial and practical discussion. We encourage on-site staff, faculty and program directors from across Europe and the US to join us for an interactive, "Town Hall" style session.
Registration required at least 48 hours in advance of the session. Please note that while we encourage US-based international educators to join us, Europe-based on site staff will be prioritized for registration as our participant numbers are capped.

Register Here

Organizers and Panelists:
Phil Georgiou - MondoEquilibrio - Italy
Melissa Rancourt - Parsons Paris
Loren Ringer - Parsons Paris
Stephen Robinson - Champlain College Dublin
Pia Schneider - Iowa State University Rome
EUASA has created a LinkedIn profile and we'd appreciate it if you check it out and to follow our page: https://www.linkedin.com/company/eu-asa
Very best wishes,
Pia
Chair EUASA 
http://www.eu-asa.org/news-events/
---
Ergebnisse einer DAAD-Befragung von International Offices und Akademischen Auslandsämtern
Link für alle Länder (https://www.daad.de/de/infos-services-fuer-hochsch...)
Corona und die Folgen für die internationale Studierendenmobilität in Deutschland
(https://static.daad.de/media/daad_de/pdfs_nicht_ba...
---
Liebe Kolleginnen und Kollegen,
mit Betroffenheit haben wir die traurige Nachricht vernommen, dass Dr. Rainer Zäck am 2. April 2019 im Kreise seiner Familie verstorben ist.
Dr. Rainer Zäck war bis zu seinem Tode Geschäftsführer der Akademie für Internationale Bildung (AIB), die er 1993 mit der Vision gründete, US-Studierenden ein lebensveränderndes Auslandsstudium in Bonn zu ermöglichen.
Wir gedenken Dr. Rainer Zäck und drücken seiner Familie und seinen Angehörigen unser tief empfundenes Beileid aus.
Vorstand der AASAP e.V.
Yasmin Fischdick, Hanne Heckmann, Jochen Wohlfeil
---
AASAP Mental Wellbeing
booklets und audio und video guides http://wellbeing-glasgow.org.uk/
---
Yasmin Fischdick und Kurt Gamerschlag bei der Sitzung der Mitglieder der European Association for Study Abroad (EUASA) am Rande der FORUM-Konferenz in Prag am 17.10.2018.
Als Gäste zugegen: Heidi Manley, Direktorin der Study Abroad-Abteilung des Bureau of Educational & Cultural Affairs (ECA) im State Department und Ignacio Messana, Executive Board Member der spanischen Study Abroad Association APUNE, die ihren Beitritt zu EUASA für 2019 angekündigt hat, ihrem 50-jährigen Jubiläum.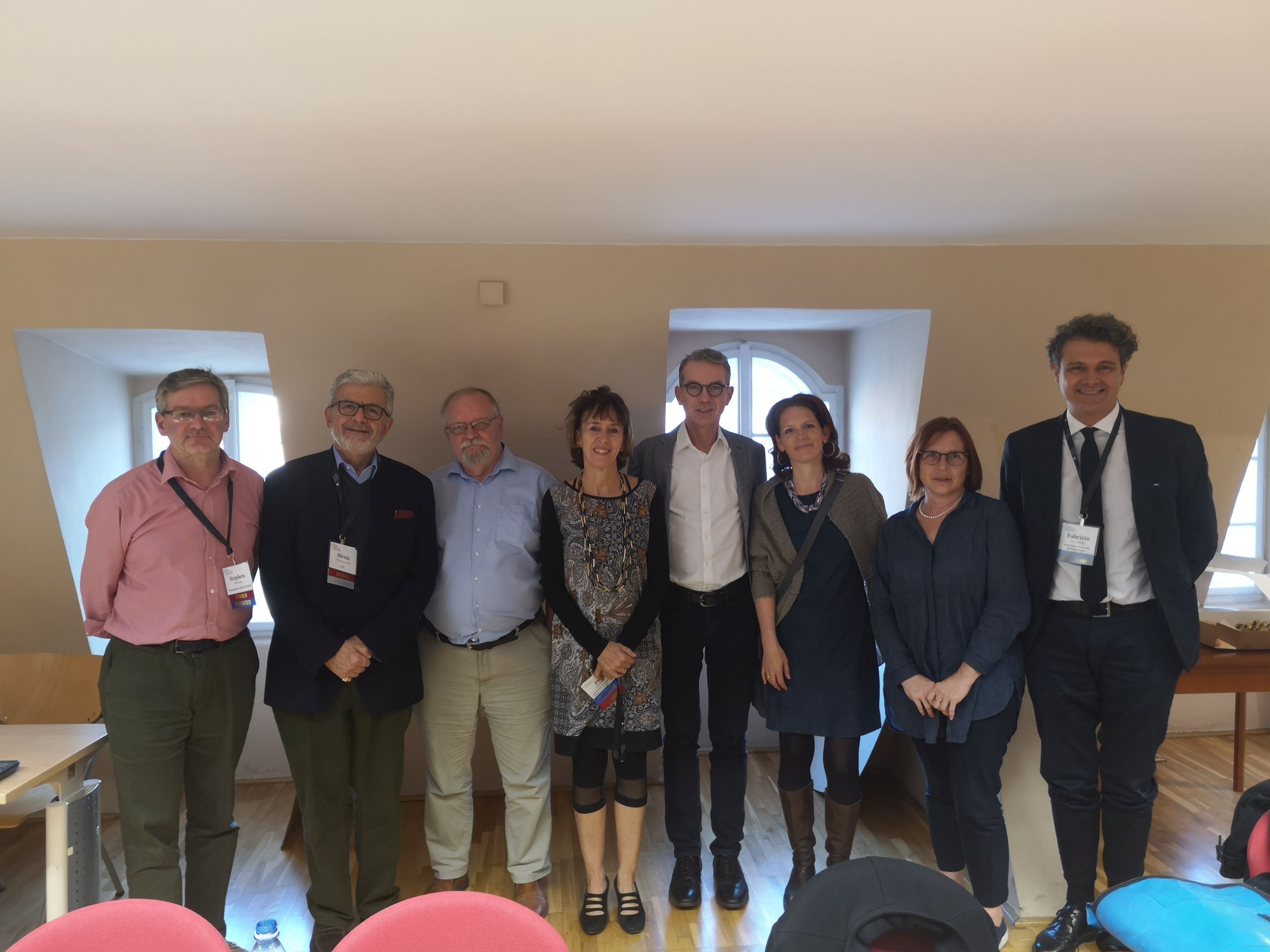 (links nach rechts) Stephen Robinson (Irland), Alexis Phylactopoulos (Griechenland), KG, Pia Schneider (Italien), Loren Ringer (Frankreich), YF, Jana Cemusova (Tschech. Rep.), Fabrizio Resante (Italien). Auf dem Sitzungsbild noch zusätzlich Ignacio Messana (Spanien) und Heidi Manley (USA).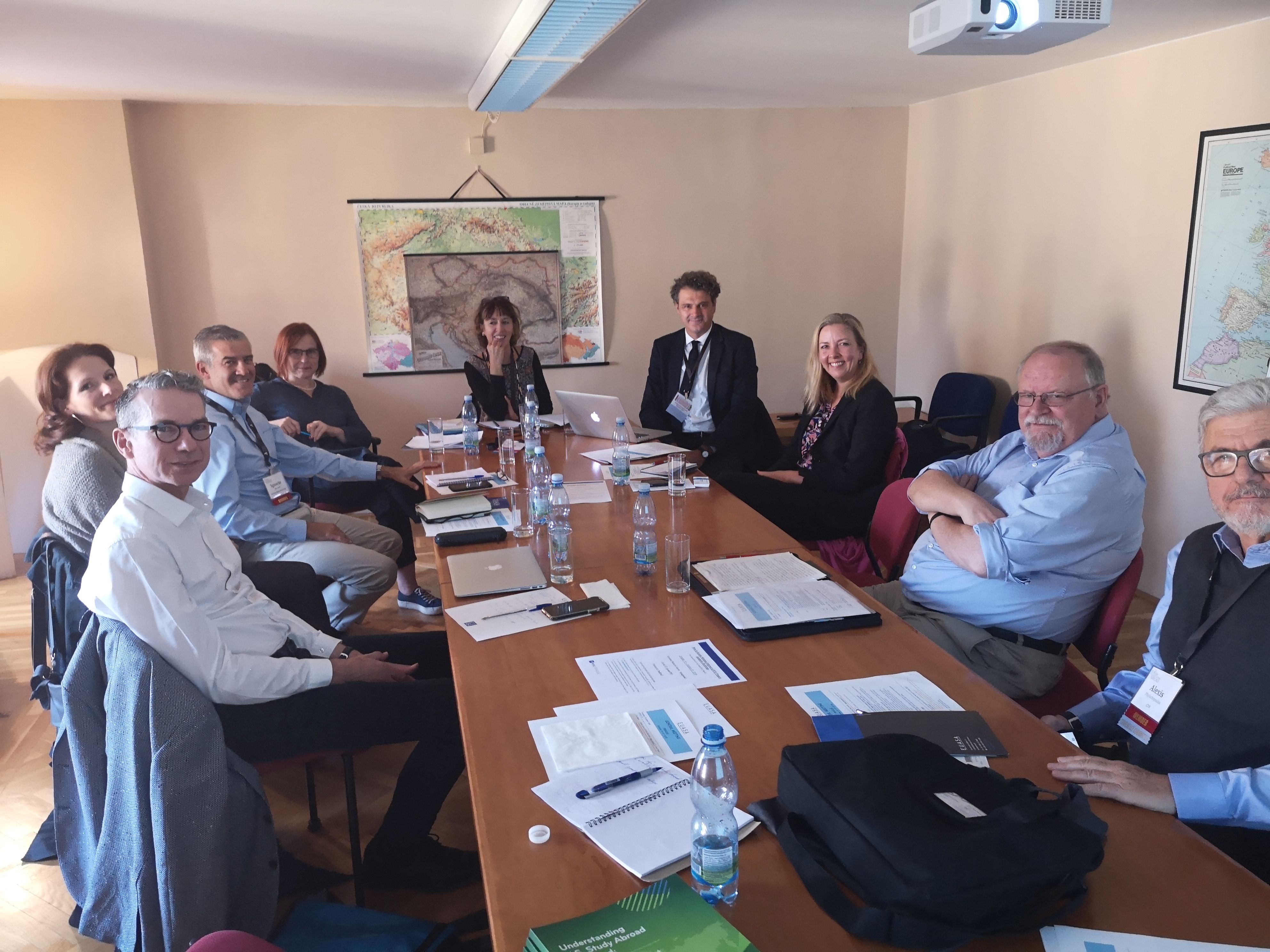 ---